Workshop: Itʻs My Life!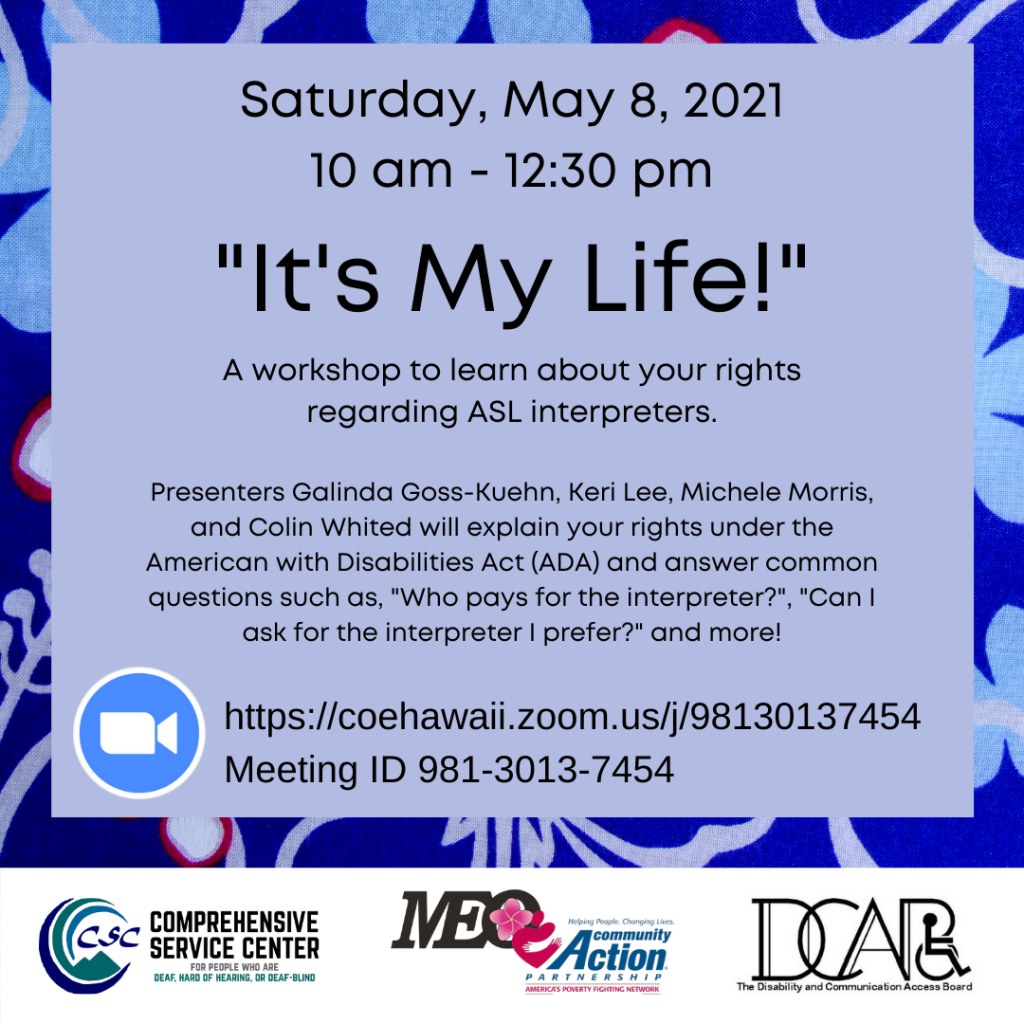 "It's My Life!" A workshop to learn about your rights regarding ASL interpreters. Deaf interpreter Galinda Goss-Kuehn, hearing interpreters Keri Lee and Michele Morris, and Deaf communication specialist Colin Whited team up to explain your rights under the American with Disabilities Act (ADA) and answer common questions such as, "Who pays for the interpreter?", "Can I ask for the interpreter I prefer?" and more! Join us on Saturday, May 8, 2021, 10 am – 12:30 pm. Register for the Zoom link: tinyurl.com/cscitsmylife​ Questions? Email roz@csc-hawaii.org
Workshop invitation in ASL: www.youtube.com/watch?v=XUAEktgGUnY
Workshop invitation text: Aloha, I'm Keri. Aloha, I'm Michelle. We're here to talk about a workshop on May 8th from 10 am to 12:30pm. The presenters are going to be the two of us, plus, Galinda, and Colin, and the topic is, It's My Life. Whose life? Is it your life that we're gonna be talking about? No, not my life. No, it's your life. You who are deaf or hard of hearing. It's your life. It's your college class, and your doctor's appointment, and your meeting. As interpreters we come in to aid with communication between you and the hearing person who doesn't know sign language. The interpreter should not enter a meeting and think that they are going to take over. No, you're in control. You as a deaf and hard of hearing person are in control. We are just there to aid in communication. And in this workshop we're going to talk about Deaf interpreters as well. DIs. Deaf interpreters and Certified Deaf Interpreters, and what the law will allow. We're excited! Yes, I'm excited too. I can't wait. We'll see you on Zoom. We'll see you on Zoom. Bye.